MEDIA AND PRESS
INFORMATION

Conseil des arts du Québec we will issue a limited number of Press Credentials or Passes to journalists representing alternative and mainstream print and televised media in all major cities worldwide. To qualify for press credentials, you must be affiliated with an internationally, nationally or regionally recognized media outlet, and hold an editorial title and or hold a position as an industry analyst. Conseil des arts du Québec reserves the right to request valid documentation to issue credentials.

All media outlets must register with the Conseil des arts du Québec prior to arriving on site. Our media group is ready to assist you in getting the best possible coverage of the event, but keep in mind that due to copyright infringements and privacy issues, use of video/photography equipment will be strictly monitored and limited to protect the interests of our guests, talents, and artists.

Bear in mind that Conseil des arts du Québec is a private event. Professional photographers and ALL film and video crews will be required to sign usage agreements, and written permission is required from Conseil des arts du Québec and the person(s) depicted to use any image from the event commercially or publicly. Additionally, Conseil des arts du Québec will require copies of all published articles, photos and/or video.





Press release

PROVOCATIONS - Sensuality & Erotism
Montreal Erotic Art Festival, August 12 – 17; from 2 – midnight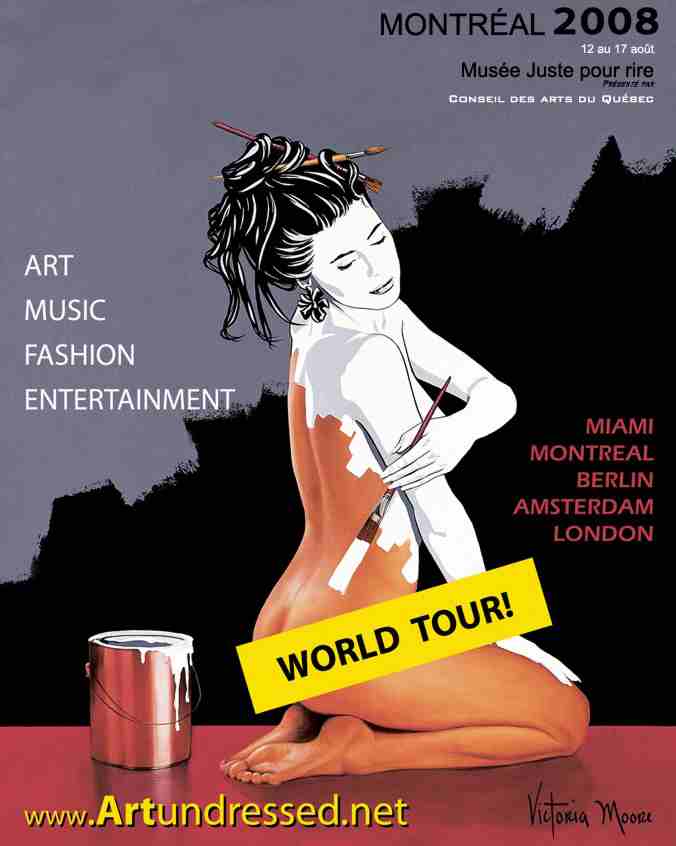 In conjunction with its cultural event "Provocation - Sensualité & Érotisme", and in association with Le Bal Érotique and Erotic Signature, Le Conseil des Arts du Québec (CAQ) will be host for "ARTundressed", An International Erotic Art Exhibition Tour (Miami, Montréal, Berlin, Amsterdam, London), featuring over 150 artworks from 120 international artists. Additionally, the work of 30 additional local and international artists, curated by le Conseil Des Arts, will also be on display at the Exhibition in Montreal from August 12 - 17th.

This collection of some of the world's most talented artists derived from a yearly international juried competition from which 200 of the best entries were selected and published in a compendium entitled "The World's Greatest Erotic Art of Today". Two volumes of this annual publication have already been released and contain a great number of the artworks to be exhibited throughout the Tour. The third volume is due in Spring 2009 and will include the work of some of this year's participating artists in the Montreal Show.

Provocation Sensualité Érotisme, Six days of artistic activities on the subject of sensuality and eroticism: Visual Arts; Dance; Erotic Performances and Fashion Shows; authors; composers; emcees; music, videos, films, erotic art exhibition and book launch, audience participation, and much more…



Once again, Conseil Des Arts du Quebec has joined forces with Bal Erotique to work towards the following common goals:
·
To establish an annual artistic event that broadens people's mindset in order to achieve acceptance and a positive way of thinking about subject matter of a provocative nature.
·
To create an artistic and cultural environment that is truly inspiring and multidisciplinary.
·
To establish a platform focusing on artistic beauty, the experience of an erogenous journey and the discovery of eroticism in art.
·
To promote Montreal, the Province of Quebec, the culture and artists .
Daily Entry: 10$
Passeport for 3 days: 30$
Council's members: 50% discount

END

FRANÇAIS

Contact:
Éric Bolduc
514-543-6152
Media and Communication Partner :
ratsdeville
The Visual Arts' Diversity Webzine
Conseil Des Arts Du Quebec:

Le Conseil des arts du Québec is a non-profit and nongovernmental organization. Its mission is the discovery and recognition of talented artists, and to broaden the public awareness of the Arts.